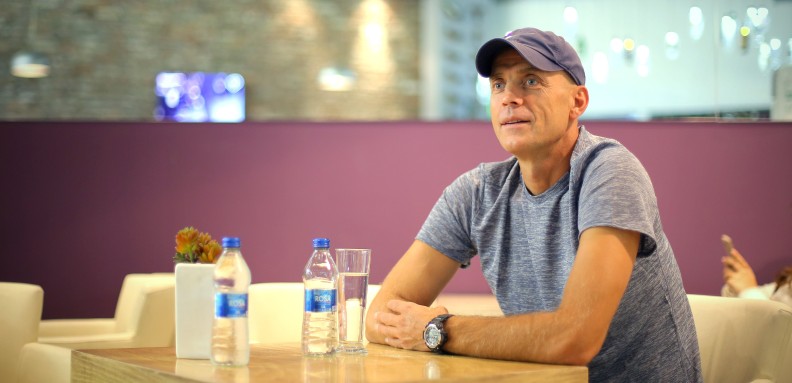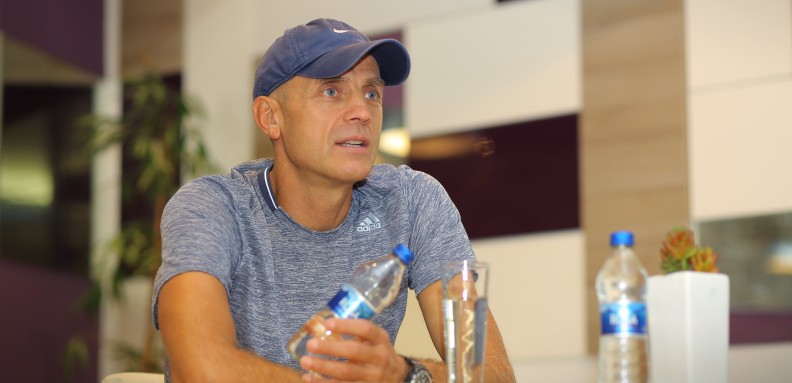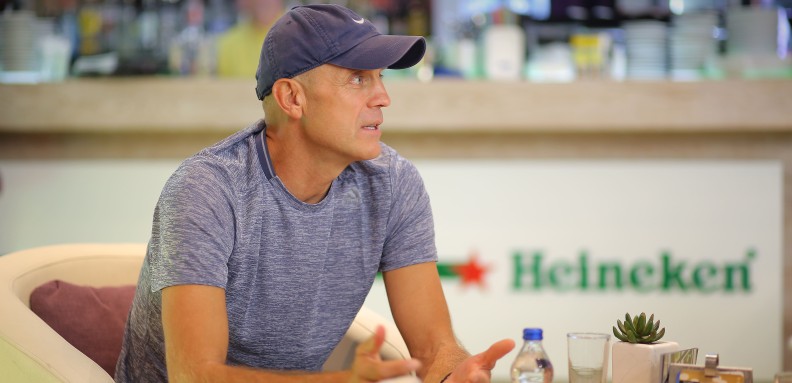 BY CLIMBING THE TOP, ONE IS ONLY HALF WAY TO SUCCESS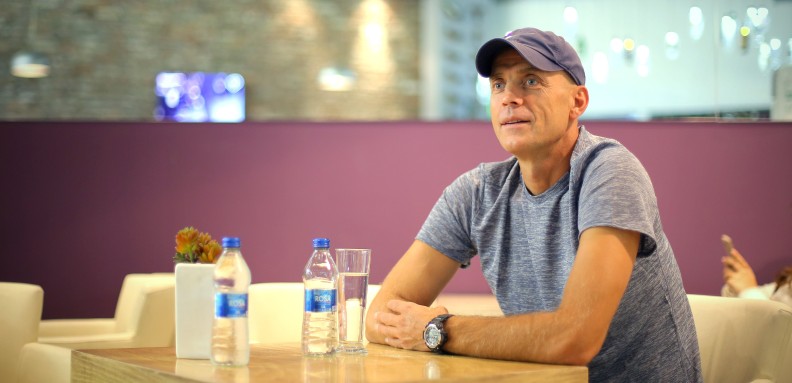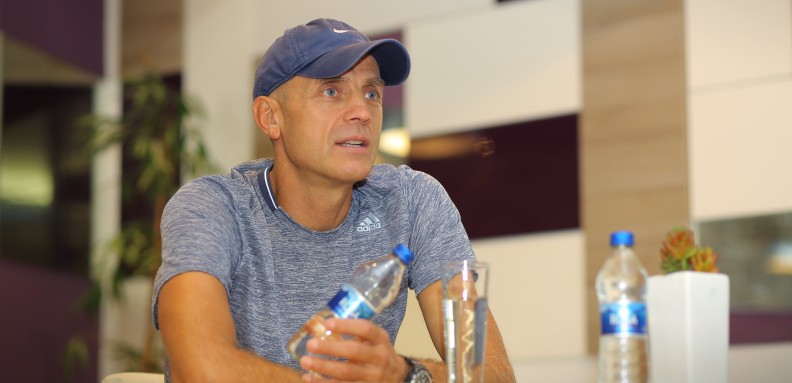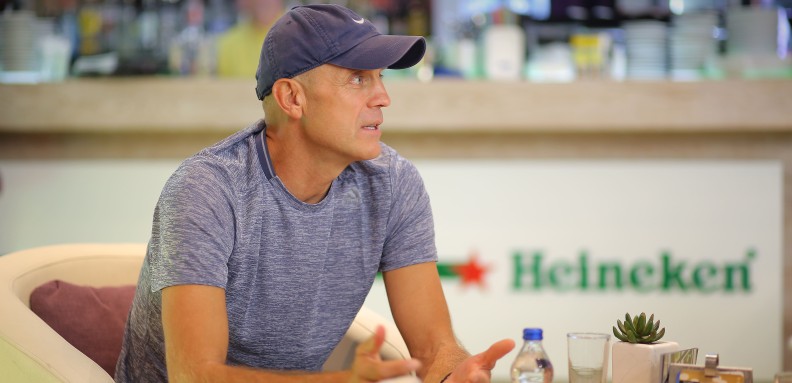 It is Saturday afternoon. Play Café in City Mall is full of passers-by and random guests. Our team was among them and impatiently waited for the alpinist Zdravko Dejanovikj, the man who wrote the history by conquering the three most dangerous mountain summits in the world or the so-called Bermuda Triangle on the Himalayas. Is he going to conquer us, as well?
We welcomed him standing, and he greeted us with a smile on his face despite the bandage wrapped around his fingers and the visible consequences on his arms from the last feat. Relaxed and open for discussion, Zdravko answered each of our questions with patience and pleasure. And to be honest, we were very curious, but he had so many things to say. Yes. He definitely conquered us. Each one of us.
In 2015, you made history being the first Macedonian who conquered three summits above 8.000 meters: the highest peak in the world Mount Everest, the second highest peak on Earth, K2 which is technically the most difficult one to be conquered; and the last one, Annapurna 1, which is proclaimed as the deadliest peak in the world. Was there any moment in time, before you departed with your expedition, when "the most difficult and deadliest" dissuaded you from your intention to do the climbing? In other words, did you have at least some kind of fear?

To the contrary, the attributes "the highest, the most difficult and the deadliest", were a great motivation for me and it made me very serious and conscious of the challenge ahead of me. For those reasons, I had to be maximally psychologically and physically prepared before any departure to the three peaks, to ensure that there is a real possibility for successful climbing. Of course, I knew about the bad reputation of these three peaks because of the dangers and accidents that could happen during the climbing, and I attempted to overcome the fear from such moments by doing special exercises in the preparatory period.
What is the first thing that comes to your mind when you reach the goal? How do you feel when you see the view from the top?

When you climb to the summit, it is like any other situation when you reach something that required years of dedication and investment of a lot of time and effort. When you are at the top, there is a great joy that the dream came true, but the triumph is very brief since climbing the summit is only half way to success, and descending is equally difficult and risky to the climbing itself.
How do you practice, where do you prepare yourself and how long these extremely important physical and technical trainings last in order to be able to make such a historic feat?

Continuity of several years and experience in climbing summits is indispensable. Depending on the mountain summit, I adjust the trainings because of the specific characteristics of each mountain summit and therefore, one needs special exercises and trainings. Usually, one has to pay attention to trainings for physical preparedness (running, swimming), alpine climbing, ice climbing, winter mountaineering, individual winter climbing on peaks over 2.500 meters, and certainly, exercises for overcoming the fear, such as crossing over a stretched rope at certain height. I do the trainings at certain locations in Macedonia, such as Matka, Demir Kapija and the Macedonian mountain peaks over 2.500 meters.
What is your diet regime and how important is hydration before and after the climbing?

I do not have any special rules or habits about my diet because anyone who regularly exercises can afford to enjoy food and does not need to be selective about the choice of food. When doing sports, it is more important to intake bigger quantities of liquids. During a normal training, the body needs up to two liters of liquids a day, and when one climbs summits over 5,000 meters, due to lack of oxygen in the air at those particular heights, one has to take from three to five liters of liquids.
What is the momentum that makes you forget the difficulties you encounter on your way to and from the peak so that you can start another such dangerous expedition?

It is true that one comes across very difficult, risky and even traumatic moments while climbing the summit, however, when you do something out of love, motivation and dedication, such moments are easily forgotten. I would say that psychological and physical wounds easily heal, and in a short period of time, one is ready to experience similar temptations again.
Your last feat was Annapurna 1, the second hardest mountain summit in the world. Conditions were very bad, but you did manage to conquer it despite the complications. Could you please tell us something more about this experience?

Annapurna 1 is massif in the Himalayas in Nepal with a peak of 8.091 meters. The summit is considered as one of the most fatal and least climbed peaks, and until I climbed it this year, officially, there were only 160 climbers in total from the whole world. Annapurna 1, along with the peak К2 with 8.611 meters height, which I climbed back in 2014, are said to be the most difficult mountains to climb. I climbed Annapurna 1 in winter time and my climbing was followed by a series of discomforts. For objective reasons, due to the bad weather conditions, although not sufficiently acclimatized, the team decided to try and climb the summit. Once we successfully reached the peak, we had to stay for two nights in a row in open air at a temperature of -40 degrees Centigrade, which is a test for our stamina, and only those who are most psychologically and physically prepared, can survive it. Thanks to my dedication during the period of preparations, I managed to endure all difficulties and descended from the peak only with some minor chilblains on my hands.
Only few people would have the courage to do such a feat. What is your message to all people that live your dream, but still did not fulfill it? What is being done in Macedonia to instill love for mountains in young people?

Anyone who wants to climb such a summit must first check his/her predisposition, first on lower peaks and then, gradually to reach the higher peaks. Indeed, one has to be prudent about the physical preparedness. There are conditions for development of this extreme sport in Macedonia, mainly due to our strong mentality, our beautiful mountains that enable trainings of all kinds and certainly, because of the proper work done by the Mountaineering Sports Federation, which has a successful strategy for proper guidance and development of climbers and highlanders. The support that Pivara Skopje provides to the Federation has made its own contribution. The Mountaineering Sports Federation of Macedonia is organizing many successful projects that manage to animate the young people, i.e. children and secondary school students so that they can use the benefits from spending time in nature and climbing the higher peaks in the country. Projects include organization of different one-day and several-day camps and staying in mountain lodges and climbing the Macedonian mountain peaks with professional mountain leaders. All activities are carried out by the mountaineering clubs which are members of the federation.
You did conquer very dangerous mountain summits, is there any other such summit in your private life that you would like to conquer?

There are many similarities between climbing the highest mountain summit and reaching goals in one's private life, and those are dedication, motivation, serious approach, persistence, stamina and patience. Each one of us sets different goals in our private lives, but some of those goals can be easily attained and for some it is more difficult. It is most important that one is aware that the goals that make us most happy are usually the goals which are most difficult to be attained. I do not consider himalaism as extreme sport or part of the culture of one person, but I consider the himalaism as one big philosophy where "life and death" are intertwined in the question "WHY"?. Such understanding of himalaism develops my desire and need to transfer my whole himalaism experience into a book that would be a good life guide for young generations.
You are registered as the first Macedonian that conquered К2, and thanks to you, SKOPSKO became the first Macedonian beer that reached that peak. How did you get the idea to bring SKOPSKO with you?

Last year, thanks to the sponsorship from Pivara Skopje, which financially supported my climbing to К2, I managed to bring one can of SKOPSKO to the very top so it will remain as the first and only beer that "climbed" the peak K2 in the world history.