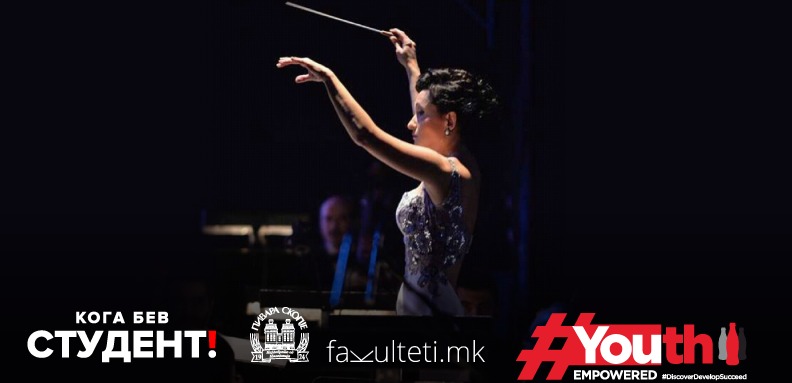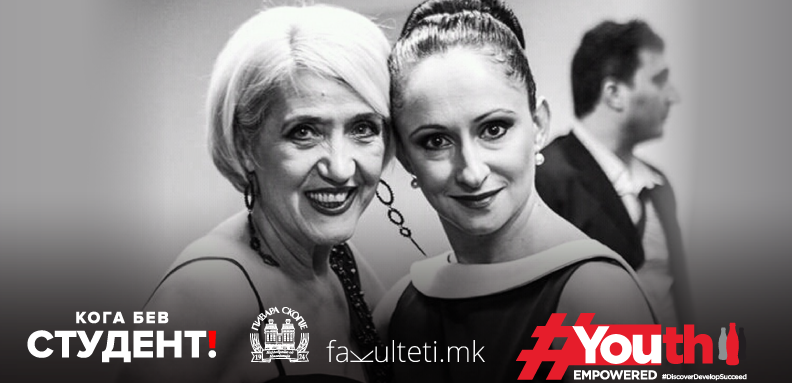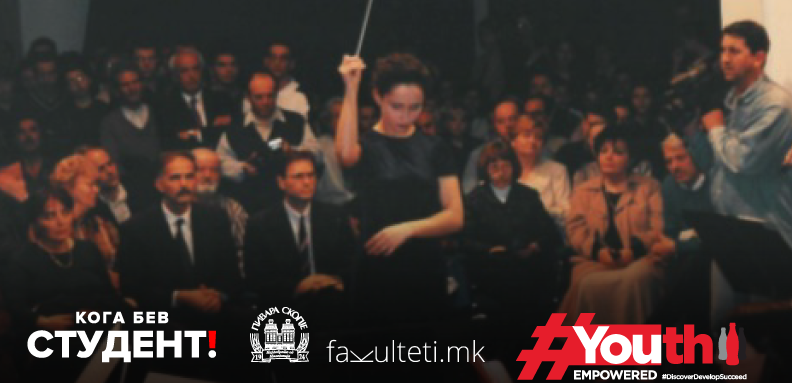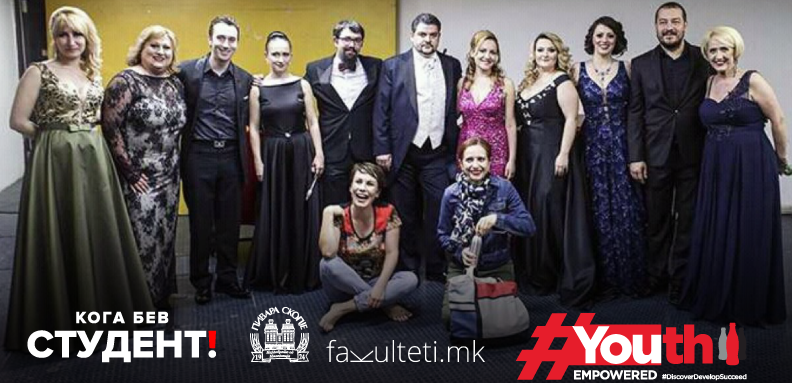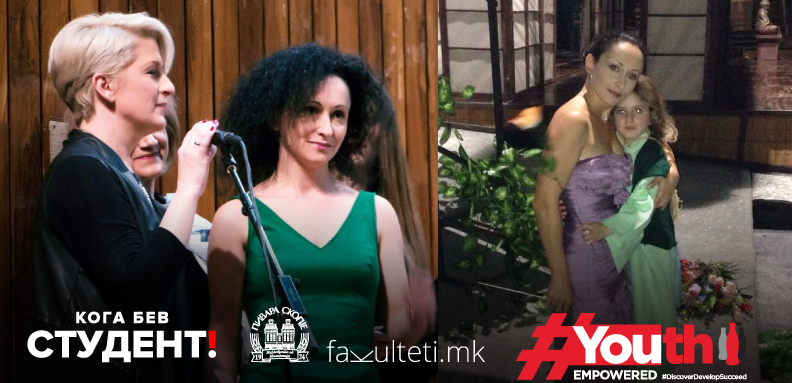 WHEN I WAS A STUDENT WITH BISERA CHADLOVSKA: THEY TOLD ME THEY WOULD DESTROY ME AT THE ACADEMY, BUT NOTHING COULD STOP ME FROM BECOMING A CONDUCTOR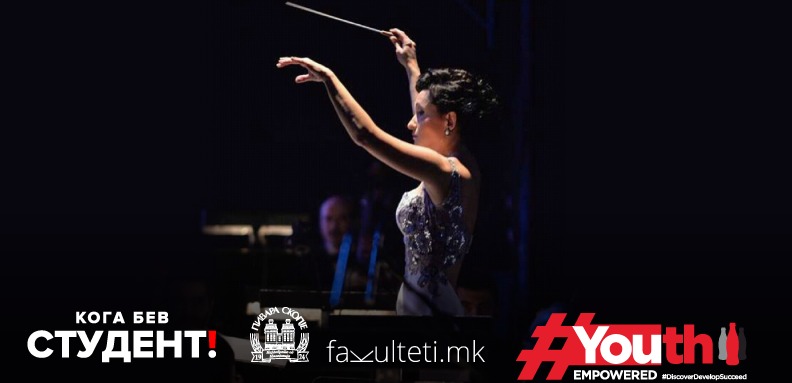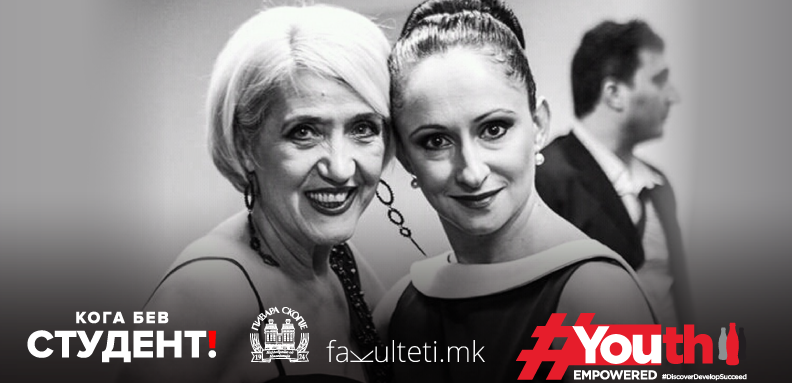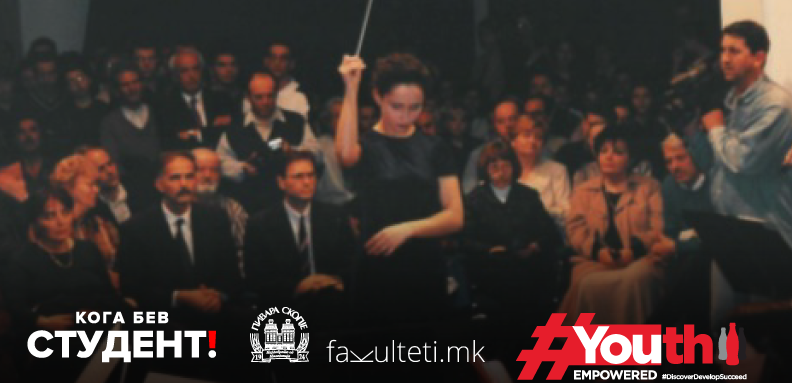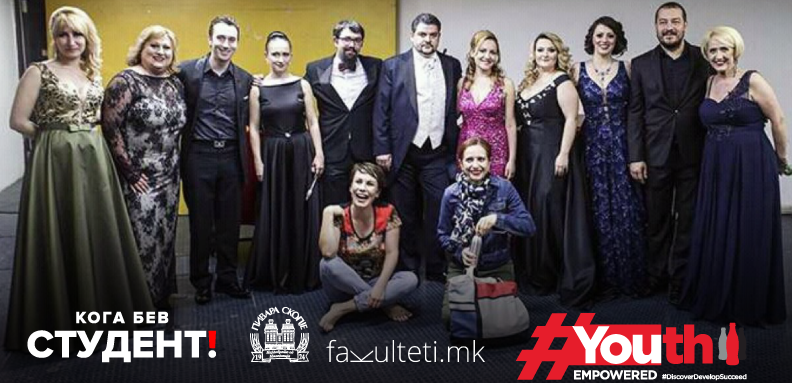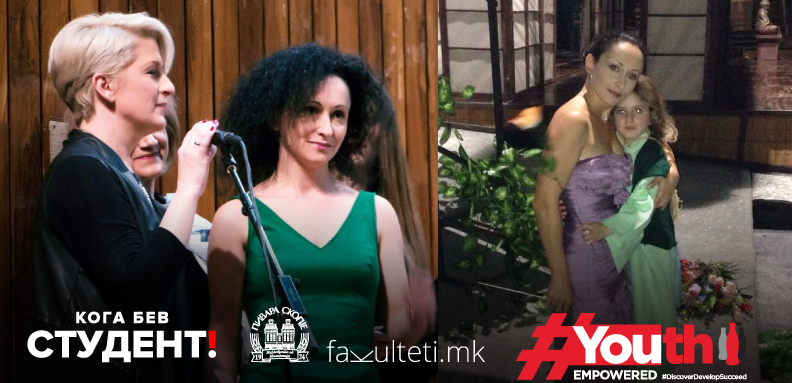 We were going out at "Victor & Victoria". That place was our real school. We were discussing music, concerts. We did not obsess with who looks how, but what he does, it was interesting and educational, says conductor Bisera Čadlovska in the rubric "When I was a student", which Fakulteti.mk creates together with Pivara Skopje
There was no living power that could persuade her not to enroll at the Department of Conducting at the Faculty of Music in Skopje. The love and dedication to this supreme activity enabled Bisera Čadlovska to become one of our best conductors and one of the few women in this dominantly male profession on a global scale. For almost 15 years she is part of the Macedonian Opera and Ballet (MOB), and for a certain period of time, also Director of the Opera.
– I had no dilemma. Since very early age, I loved this. In the secondary musical school, I deliberately stayed on the theoretical part so that I can continue with conducting. I never wished to become an instrumentalist; it was boring and uninteresting to me. Before me, at the Academy, there were two girls who finished for conductors in the class of my professor Fimčo Muratovski – says Čadlovska.
Family support
She explains that she had unconditional support from her family, which had no direct connection with classical music. Her mother was a professor of English and a translator, and her father – a journalist, one of the founders of the Parliamentary Channel.
– In my extended family, I had an uncle – Milan Firfov, who was a professor at the Academy and prepared me for the admission exam. When I told him what I wanted to study, he asked me if I was aware of what I was doing and that the risk was huge, that they would destroy me. But I knew that I had to do it and I didn't regret it. At that time they admitted one student per year, and there were no candidates every year. The admission exam was too difficult and it required knowledge of multiple subjects. There was a four-year break between me and the previous student and almost everyone was a single student in his generation. We worked alone on our individual subjects, and I shared the classes of Polyphony, Musical Forms and some others subjects with the colleagues from Composition, for example. In that group we were also few – five," says the conductor.
She still maintains good communication with her professor Muratovski. From him she learned a lot about conducting.
– To this day he sometimes tells me: "Do you remember what you were like at 18 when you came to me?" – A teenage girl with a little chain around her foot. And I remember that he asked me: "Where are you planning to go like this?" And since then, I never dressed like that at the faculty again. He was very authoritative, he never yelled, but he knew how to really position himself towards the students, as rarely who knows nowadays – Bisera admits.
She started going to the elementary music school at the age of five and finished it during the seventh grade. It felt a bit boring and she thought of giving up music. But a few months later, she realized that at home, she practiced the piano much more than when she attended classes. Thus she realized that she should return to music. During that period she met Professor Karmen Kostova and she pointed out to her that she had a talent for piano.
– I enrolled at the Theoretical Department with a tendency to enroll at Conducting. One day I told the professor that I did not want to continue studying piano. She was very angry and told me to leave her class if I do not enroll for piano. I adore her to this day and I know that she thought well with that attitude," says Čadlovska joking that even now, at the age of 41, she still cannot leave the music school, because now her 9-year-old daughter is studying piano and ballet.
Her first performance during her studies was in her third year at the Army Hall. Then she first stood in front of the Orchestra of the Macedonian Philharmonic. While studying, some grades were important to her, but not all of them. For example, she did not care what would her grade be for the subject Defense and Protection.
Glišic was a very authoritative professor
Čadlovska teaches vocal singing at the Music Academy.
– I passed the exam for the subject Harmony after the fifth attempt and finally Professor Živojin Glišic told me: "I could have let you pass the first time, but I needed you to make some effort." He was known to be a tough professor and generations lost years because they didn't pass his subject. He is a very interesting man.
Now I know which professor was right and who was not. And I'm also strict. If the students do not attend classes, I do not give them a signature. If they came to learn, all right, if not, they do not have to study at all. No one should pass just like that, without any knowledge – she says.
She claims that every young person who decides to study must find some time also for enjoyment.
– It was much more interesting for us when we studied. When I was in high school and then at the faculty, we were going out at "Victor & Victoria" café. That place was our real school. All the musicians gathered there. We sat there for days and nights and I know almost all of my colleagues from there. We were discussing music, concerts. We did not obsess with who looks how, but what he does, it was interesting and educational. We learned so much at that little place. We went to concerts and performances a lot. I did not miss any concert of the Philharmonic or at the MOB – says Čadlovska.
What fascinated her most in conducting?
– It is the control over the sound of the orchestra that you need to establish and that complete sound of a huge ensemble to come out of you. It's inspiring for me. The very beginning of the first sign, the first tone that the orchestra produces under your helm is something that, on every rehearsal, it causes butterflies in my stomach and it still holds me. It's a feeling that leads me. That excitement, not as nervousness, but as love. Although I am currently the Director of the Opera, I cannot imagine not conducting – she says, adding that in recent years she really got fond of ballet music, but the opera is definitely her greatest love.
– At the beginning I never imagined that I would want to do this. I came here accidentally. They needed a tone-master, and in the meantime all of the conductors who worked here were emigrating from the state. I did not want to work here, but when I entered, something clicked and now I would not change the Opera for anything," she says.
She admits that "Tosca" is her hardest performance so far. She was totally unsatisfied with her first performance and admits that she nearly suffered a nervous breakdown. It is not in vain that this opera is conducted by the masters who have 50 years of experience.
Čadlovska explains that she learned the most when she started working in the MOB. She sat at the rehearsals day and night.
– The conductor must not afford to start to look like someone else. That bothers me when I see it in some other conductors. I'm learning how to work, but I cannot imitate. I cannot be someone else. I am impressed with: Zubin Mehta, Riccardo Muti, Von Karajan, Bernstein. They are from another planet. I was fortunate to receive a scholarship in Vienna, to watch Muti work with the Vienna Philharmonic. It does not compare with our working conditions – Čadlovska recalls.
Women are a real rarity in the profession
The question why women conductors are a real rarity in the world was inevitable. She says she doesn't have the answer, but she believes that there is a stereotype that women cannot be good at this.
– Now we have several girls at the faculty. Women are not given a big chance in this profession. It is a stereotype, and they can impose it on themselves as well – that they will not be able to succeed in that world, and with such energy they provoke some kind of failure. More often it would happen that a girl is not hired after a job competition is announced than a boy. In the Vienna Philharmonic, for example, there was not a single woman in the orchestra, and not even in the front panel. I personally have not had much of a problem," she says.
Čadlovska says that the most emotional performance that she has been conducting so far was "Madame Butterfly". She cried a lot during the rehearsals, especially in the scenes in which the main heroine needed to give up her child.
– I could not refrain myself. I cried both on the rehearsals and during the performance. I started working on the opera as a substitute, and my daughter played the child in the play. I could not refrain myself in those scenes. It seems to me that in such performances, the women's sensibility is more felt – says Čadlovska.
The conducting technique is learned
We asked her to share an anecdote that happened on stage.
– How many times did my baton fall, I have been flying on the stage. In Bitola, during a performance I stumbled upon a cable, so I flew on to the stage. I landed straight. My baton fell in the middle of a concert, so the colleagues tried to give it back to me, discretely. Once I was left without a shoe during the bow. We played "Carmen", and in two weeks I was about to give birth. There were holes on the stage between the boards and I became barefooted. A colleague kneeled, took it and put it back on my foot. Also, sometimes the straps from my bra became unhooked, from the dresses – laughs Čadlovska.
Many people who are not sufficiently knowledgeable about conducting have a dilemma what the conductor is actually doing. Čadlovska explains that the conducting technique is something that you learn.
– We studied it for five years. After a while they changed that, it is now studied for four years. The first year was dedicated exactly to the study of the conducting technique, the positioning of the hands. It was very important and useful for everyone. With experience, each builds its own style. After some time and experience, you are already free and you do not think how you move your hands. The way of counting, of conducting, the movements are the same. It depends on how someone is doing that, what kind of movements he naturally has – says Čadlovska.